WORKING OF THE FREE COMMUNE OF ILOT SACRE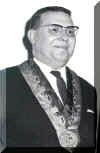 In 1965 the Administrative Council of the new non-profit association changed its name into "Conseil Communal" (city council). Its members are chosen for two years by the general assembly. The different functions were changed as follows: the chairman became the "Grand Bailli" (Grand Bailiff), the vice-chairman became the "Bailli" (Bailiff) and the other councilmen became the "Echevins" (aldermen). Jean Van Calck, the folkloristic Burgomaster of the former association, was retained in his function.
The new City Council of the "Commune Libre" decided to create several honorary titles - Ambassador, Consul, Chaplain and Honorary Citizen - that are awarded to persons representing the association in other countries, as a reward for services rendered, or to pay homage to certain personalities. The Council instituted the titles of "Grand Bailli d'Honneur" (Grand Honorary Bailiff), "Bailli d'Honneur" (Honorary Bailiff) and "Échevin d'Honneur" (Honorary Alderman) as well and awards them in the name of the inhabitants and merchants of the "Commune Libre de l'Ilot Sacré".

The building in the Rue des Bouchers number 17 was chosen as the "Maison Communale" (town hall). This house, which nowadays houses "Le Bourgeoys de Broecksele", was restored in 1960. It occupies a central position in the Commune Libre and can be seen from the boulevard Anspach. The hall on the first floor became the "Salle du Conseil" (council hall).
This hall contains numerous souvenirs and gifts of several personalities or associations to the Ilot Sacré. This place also served as meeting room for "La Mine Souriante" (an association of the Belgian caricaturists and comedians) and for the "Ex-Karnavalen Prinzen von Eupen" (the former Princes Carnival of Eupen) in 1965, for "Les Merveilleux", the Gilles of La Louvière in 1967, and for the "Jeune Chambre Économique de Bruxelles" (the young economic chamber of Brussels) in 1968. This hall was also used for several artistic expositions.
The territory of the Commune Libre forms a quadrangle bordered by the streets "rues des Fripiers", "rue de l'Écuyer", "rue d'Arenberg", "rue de la Montagne" and "rue du Marché aux Herbes". All the streets, dead ends and galleries within this area, as well as all the adjacent streets and squares are part of the Ilot Sacré.

The coat of arms of the Commune Libre consists of a tierced per bend sinister escutcheon : the upper part of the escutcheon has a red background with old facades on a white background; the lower part is green with old facades on a white background. On the bendlet sinister the words "L'Ilot Sacré" are inscribed in gothic letters on a white background.