ORIGINS OF THE FREE COMMUNE OF ILOT SACRE




At the beginning of the fifties, a series of works for the World Exposition that was to be held in Brussels in 1958 was considered, notably the widening of a number of streets in order to facilitate the circulation of the public transport, cars and tourists around the Grand Place.
Especially the "rue des Bouchers" and the "petite rue des Bouchers" were taken into consideration, with the "rue des Dominicains". A whole series of buildings on the even side of the rue des Bouchers was meant to disappear or have its fronts diminished. Their facades had to be the continuation of the present restaurant "La Terrasse".
The right-hand side of the petite rue des Bouchers facing the Grand Place was in danger of being demolished to such an extent that only a small part of the baker's shop, in those days situated on the corner of the rue des Bouchers and the petite rue des Bouchers, would survive. This project caused a lot of indignation with the proprietors, inhabitants, merchants and several associations.
in 1959, after the end of Expo 58, a consultative committee for town-building was set up by Lucien Cooremans, Mayor of the City of Brussels, and his alderman for public works. This committee was set up to study the possibilities of creating "islets". The committee also drew up regulations for urban protection. Its conclusions were submitted to the "Conseil Communal" (City Council). Finally on the 21st of March 1960 the special plan 30/10 for town-planning was adopted in order to prevent the building of modern constructions and to preserve, harmonize and restore the existing facades.
A series of strict town-planning standards were introduced. It was forbidden to hang perpendicular sign-boards. Furthermore, these sign-boards had to be written in gothic letters. Only indirect lighting was allowed.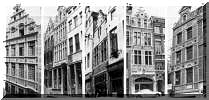 If a facade had to be renovated, it had to be cleaned first, and if one square meter of old bricks (especially around the windows) was discovered, the facade had to be rebuilt in the style of the 17th or 18th century. Only Spanish bricks were allowed. The lintels around the windows had to be made in white stone that was cut the old way, that is to say: by hand.
On the 24th of August 1960, the decisions of the City Council of Brussels were taken up in an Order in Council which created seven "islets" that had to be preserved. We are interested in the first "islet", the one around the Grand Place. It is bordered by the "boulevard de l'Impératrice" and the following streets : "rue Saint-Jean", "rue du Lombard", "rue du Midi", "rue de Tabora", "rue des Fripiers", "rue de l'Écuyer" and "rue d'Arenberg".